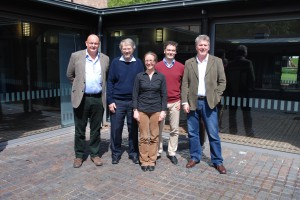 Dr Nigel Hunt
Dr Hunt is a a psychologist specialising in traumatic stress, particularly war trauma. He  has been involved in research projects relating to British veterans from World War II to Afghanistan, and veterans and civilians from other countries, such as Iraq, Bosnia, Finland, China, South Sudan and Chile. His concern is the barriers to traumatic memories being resolved through the development of narrative. Treating traumatic stress is about helping people make sense of their experiences, to develop narratives.
Professor John Beckett
John Beckett is Professor of English Regional History at the University of Nottingham. He has vast experience of working with community groups, particularly in the area of local history, and was recently PI on a Connected Communities project relating to Nottingham's Green Spaces. He has a long standing interest in the First World War, is supporting groups that are interested in researching their community through the war years, and is researching and writing a book on the use of propaganda during the First World War years. His article 'Patriotism in Nottinghamshire: challenging the unconvinced, 1914-17' is due to be published in Midland History later this year.
Dr Natalie Braber
Dr Braber is a senior lecturer in Linguistics at Nottingham Trent University. Her research focuses on language variation in the East Midlands and how speakers use language. She is also interested in how people talk about their memories, for example, collective memory, and how emotion can influence language use. She has worked on combining oral history archives and linguistic research to examine language change in a region. She is interested in 'pit talk' (the language of miners) in the East Midlands. Not all her work is focused on English as she has carried out research on German and Dutch.